Dear Customers,
Please be informed that from 24th October to 30th October 2013 I will be on my holiday in China and I will be back on the 31st. All emails will be replied on 31st October onward. Thank you!
Kesorn
23rd Oct 2013

Adeniumseeds.com is Thailand's leading adenium exporter , Producing ,Distributing fresh & good quality seed and seedling to every place on earth such as Indonesia , Taiwan,France , United state of america etc. We are one of thai adenium grower , Sell Adenium product by online included Obesum , Arabicum , Somalense , Thai sooctranum we can supply you Adenium seed and seedling in retail and wholesale price for grower and collector , We welcome to service all Adenium lover with fast respond
Below are some of the products we can supply you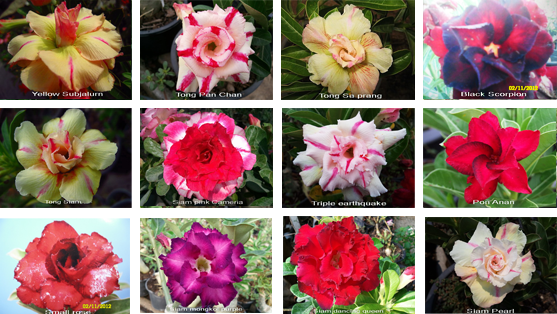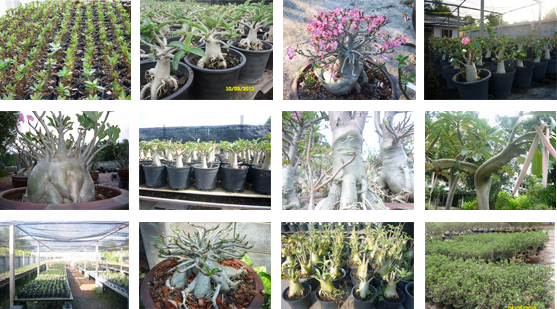 We are Thailand's leading Adenium exporter, producing and distributing fresh Adenium seeds and seedlings to all over the world!
Because of attractive forms, various blooms and species, Adeniums or Desert Roses have become well-known and popular among plant lovers and collectors since 1990s. Recently, Thai breeders and growers can pollinate Adeniums' flowers by hands, leading to a wide variety of hybrids.
We are one of the most successful Thai growers who can produce a high volume of quality seeds. We have our own nurseries and gardens where a wide range of Adenium species are carefully cultivated for export so that we can ensure high quality and the freshness of every seed we sell. Our customers are in many countries around the world such as The United States, France, Australia, and Indonesia.
Our web site is being developed to be an alternative online community for all adenium lovers regardless of skill and experience. This web site is also a new channel to meet our customers interested in our products. We are willing to support all adenium lovers with our experience and knowledge, hoping that growing Adenium could be an enjoyable experience for everyone.